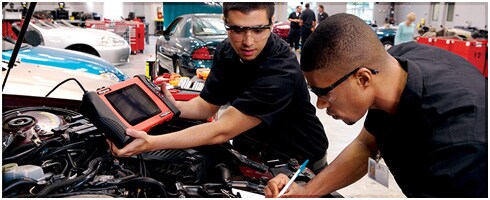 Are you looking for a career in the automotive industry? Join the Greenway CDJR team in Morris, IL! Our Greenway CDJR family is filled with qualified sales representatives and expert auto technicians that are here to welcome you and help continue our success as a growing CDJR dealership. See our current career opportunities below.
Due to increased sales & business, we have full time openings for the following Automotive Technician positions:
Line Technician
Apprentice Technician
---
Line Technician
We are looking for an experienced technician with training already completed. The ideal candidate will have his own tools and will be able to work on new/late model cars and trucks, without come backs. Top wages for top person - above Union Scale.
Equal Opportunity Employer, M/F. We have health insurance, paid holidays and a matching 401K plan. If you are looking for a long term job, Greenway CDJR will take care of you. 
How to Apply:
Call and ask for Tom, Deb, or Jim at (877) 727-7650 or fill out our contact form and mention "Line Technician Position" in the "Comments" field.
Apprentice Technician
The best suitable candidate will have:
experience in an automotive environment
had some training directly related to becoming a top notch line-tech
Current experience in a muffler, break/tune up shop, etc. is a major benefit for this position.
Equal Opportunity Employer, M/F. We have health insurance, paid holidays and a matching 401K plan. If you are looking for a long term job, Greenway CDJR will take care of you. 
How to Apply:
Call and ask for Tom, Deb, or Jim at (877) 727-7650 or fill out our contact form and mention "Apprentice Technician Position" in the "Comments" field.