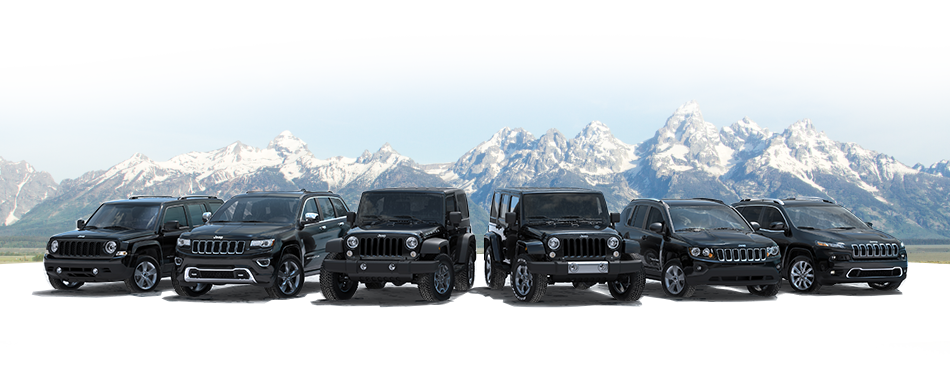 With deep ties to American history, Jeep is an iconic brand celebrating 75 successful years in the auto industry as of 2016. The Jeep brand has been revolutionary since its genesis, starting by building the Willys MB for the U.S. Army in 1941 in preparation for World War II. Jeep continued to lead the industry by creating the first metal station wagon-which is how tailgating was born-as well as the first compact SUV, and first full-time 4x4 with the shift-on-the-fly feature.
Greenway Motors is proud to offer the Joliet area a huge inventory of over 60 new Jeep vehicles, which you can browse through from the comfort of your home. With such a big inventory to choose from, you may need help deciding. Feel free to check out which Jeep is right for you, then give us a call at (877) 727-7650 to test drive the model that fits you!
Jeep F.A.Q.
What's the difference between full-time and part-time 4x4 systems?
A part-time 4x4 system doesn't have a center differential like a full-time, but locks the front and rear driveshafts. A full-time 4x4 system has a center differential, which allows the front and rear driveshafts to rotate at different rates.
How do I prepare my Jeep for off-roading?
To start, secure your battery and make sure Jeep parts are in good condition, and make sure your fuel, oil, and other fluids are filled. It is also important to make sure your Jeep is equipped with the proper traction system, tires, suspension system or lift kit, and lighting. The terrain and environment where you'll be off-roading is important to consider when deciding on how to equip your Jeep, too. Someone spending time in wooded areas should consider bull bars and someone going through mud, sand, or snow should consider the MaxTrax.
Do you know which Jeep parts you need for your next off-roading adventure? Fill out our online form to order your genuine Jeep parts today!
Check out our favorite spots to go off-roading with our Jeeps!
What is Uconnect® and is it free?
Uconnect is an in-vehicle connectivity system and some services such as Wi-Fi, Uconnect Access, and Vehicle Finder require a subscription, which is free for the first the six or 12 months. After the free trial, subscriptions are sold separately
What's the difference between Uconnect 4.0 and Uconnect 5.0?
The number of the Uconnect is the size of the screen in inches. For example, Uconnect 8.4/RE2 is a package that comes with a 8.4-in. display screen. Each package also includes different services and features. The following feature and services available with Uconnect systems include:
 Entertainment

SiriusXM® Satellite Radio
Multi-speaker sound system partnered with Beat Audio®, Alphine®, Harman Kardon®, and more.
USB port
CD/DVD player
AUX port
Bluetooth® Streaming

 Phone

Hands-free calling and voice text reply
Wireless charging
Uconnect phone
Contact syncing 

 Navigation

SiriusXM traffic
SiriusXM travel link
Uconnect Access

Send 'N Go and vehicle finder
Yelp

 Voice Command

Siri® Eyes Free
Ask for directions
Make a call
Access your playlist

 Controls

Vehicle Health Alert
Touchscreen display
Steering wheel mounted audio controls
Climate control 
*Offers may vary and some services require subscription.
Do you have questions other than the ones answered above? Reach the product specialists at our Chrysler, Dodge, Jeep & Ram dealership near Joliet, IL through our online contact form or by phone at (877) 727-7650.